Sackville Rod & Gun Club recognized at NBWF AGM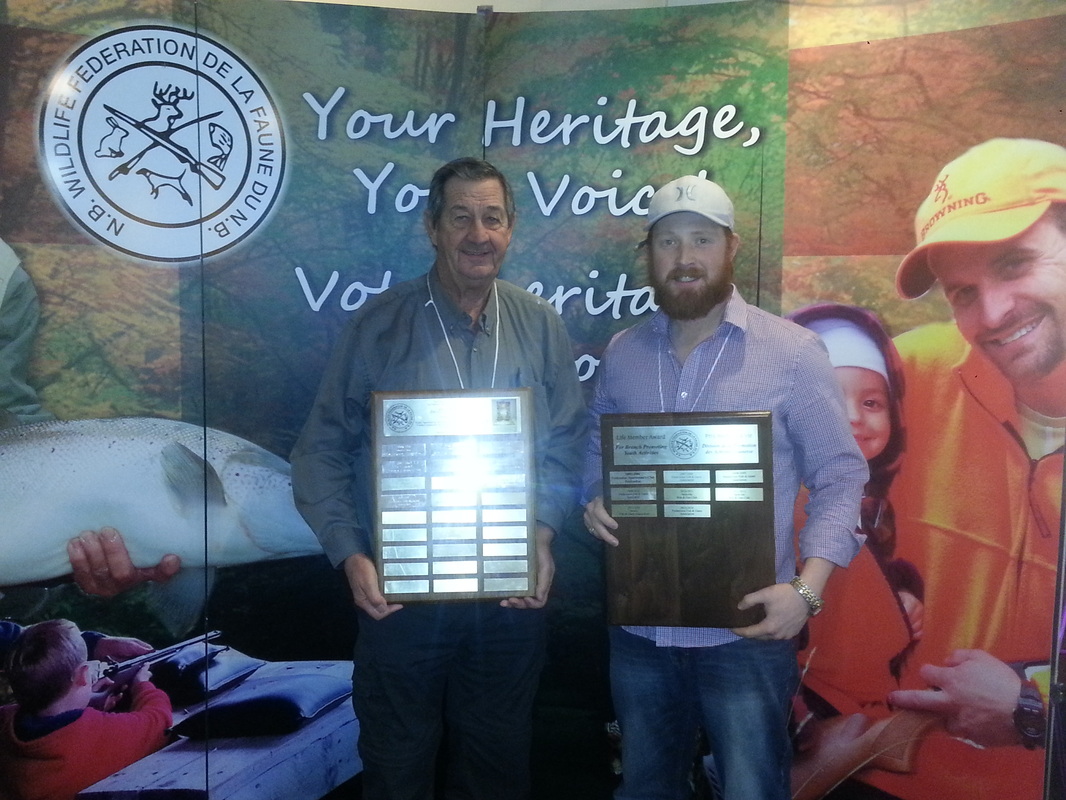 Treasurer and founding member Roger Estabrooks (left) and Club President Sean Gormley (right) pose with the awards for Most Active Branch and Promotion of Youth Activities at the 90th annual NBWF AGM.
The Sackville Rod & Gun Club sent two delegates to the New Brunswick Wildlife Federation's 90th Annual General Meeting. The SRGC was awarded the Frank Wilson Memorial Award for Promotion of Youth Activities, as well as the award for the Most Active NBWF Branch an unprecedented 4 consecutive years. Thank you to all club executive, volunteers and sponsors for helping us host so many successful events! The SRGC report to the NBWF is available below for reading.

Staying Safe in Bear Country

If anyone missed Gerry Redmond's presentation on "Staying Safe in Bear Country" at our April meeting will have one more chance to catch it! Gerry will be presenting to the Chignecto Naturalists on Monday April 20th, 2015 and the public is welcome to attend. The presentation will begin at 7:30 pm in the basement of the Sackville Public Library (use rear entrance). Gerry is the Executive Director of the Maritime College of Forest Technology and a certified wildlife biologist with years of field experience.

---
Calling all female Club members: Win a free trip To BOW NB!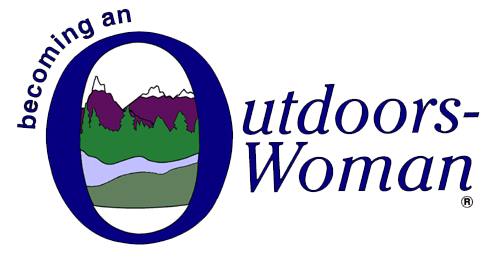 The Sackville Rod & Gun Club is happy to announce that it will be sending one lucky female club member (18+) to Becoming an Outdoors-Woman. All female club members who have paid their dues by Saturday April 25th are eligible for the draw which will take place at our annual spring supper.
The winner will participate in Nature Art, Fur Harvesting, Map & Compass and gold panning activities during June 5-7 at Green Hill Lake Camp in Lower Hainesville, NB. All food and accommodations will be taken care of during the weekend. To enter the draw or have any questions answered please contact
Robbie Smith (smithrc@eastlink.ca) or Sean Gormley (506-871-0081) and check out the BOW NB facebook page by clicking
here
, or the their NBWF webpage by clicking
here
.
---
Sackville Spring Clean

The Sackville Clean Sweep is an event where town staff, council, students and community members pitch in to help tidy the city streets and public places of garbage accumulated during the winter. This year it will be held on
May 2 from 9:00am-noon
rain or shine. Participants are asked to meet in the
lobby of Town Hall
before 9:00. Refreshments will be provided at the event. For more information or to confirm attendance please contact
d.cadman@sackville.com
.
---
Forest Foundation of New Brunswick Raffle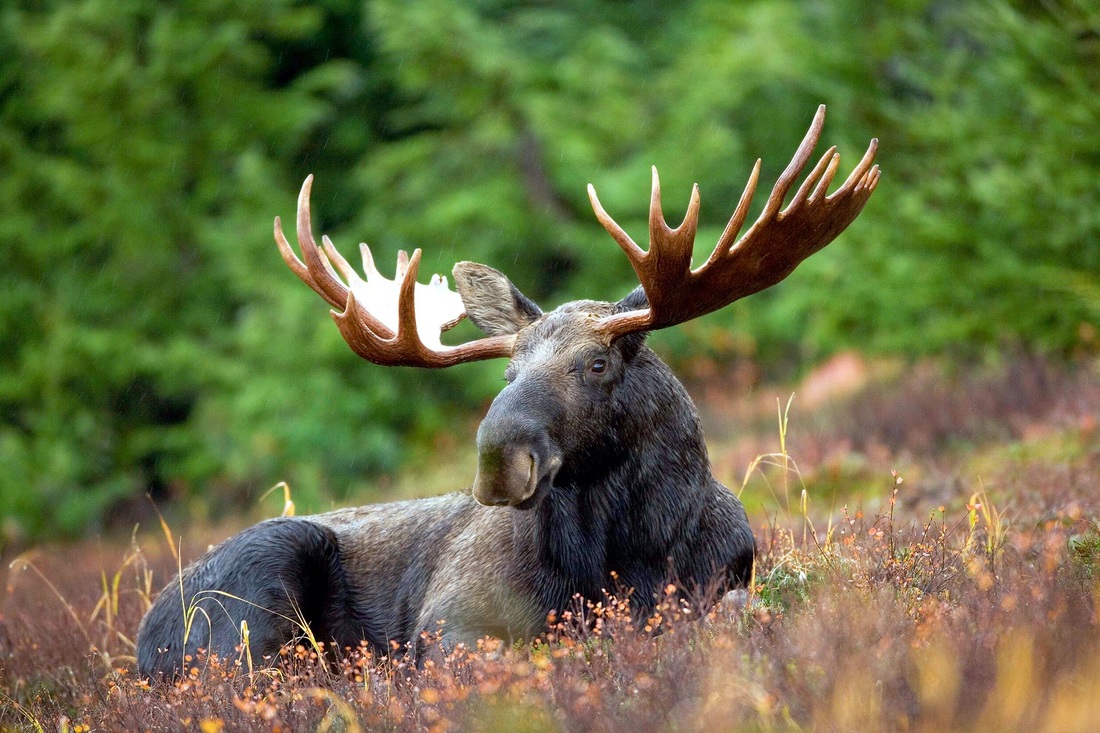 FFNB is holding their annual raffle to support habitat projects in New Brunswick. The draw is taking place May 29, 2015. Tickets will be sold at $100 each and only 400 will be made available.
Contact 506-859-1240 or order tickets by email here.
Please mention you heard about the draw from the Sackville Rod & Gun Club. The prizes are as follows:
1. 5 day moose hunt for 2 in NFLD
(1 license, 1 observer)
2. 3 day Miramichi Salmon Trip for 2
3. Tikka 7mm Mag with Burris Scope and case
4. Stryker crossbow, bolts and hard case
5. Gloomis Pro 4x9 ft fly rod, Pflueger Trion reel, line and case


The Forest Foundation of New Brunswick is a not-for-profit organization working actively to promote conservation, enhancement, expansion and development of wildlife and wildlife habitat. They help fund and implement projects including the Ruffed Grouse Project at Cross Creek and the Cannan Clover Project. Check out the website at:
www.forestfoundationofnb.org
---
Come to our Sportsman's Supper and bid to win a trip to Larry's Gulch!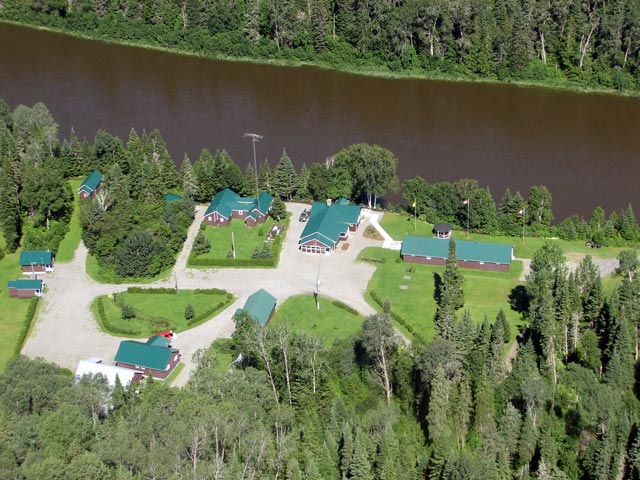 The Sackville Rod &Gun Club's annual Sportsman's Supper will be held on Saturday, April 25, 2015, at the Tantramar Veteran's Memorial Civic Centre, 182 Main Street, Sackville, N.B.. Tickets are $20. This year's meal will be roast beef, vegetables and dessert. There will be a cash bar. Following the meal, raffles and games will take place. Doors will open at 5:30, with the meal being served at 7:00.
The door prize is a .243 Savage rifle donated by Green Diamond Equipment-Moncton, and Savage Arms Canada.
Our premiere live auction item is a salmon fishing trip to Larry's Gulch Lodge on the Restigouche River. The package is for two people and includes: food, lodging, guide and canoe, fishing and instruction. The exclusive Larry's Gulch Lodge has hosted Canadian dignitaries, American presidents, Hollywood entertainers and professional athletes from around the world. This is the best fishing in New Brunswick, on the river with the biggest fish. The trip is valued at over $2,600.00. For more information and details about this once in a lifetime opportunity visit
http://larrysgulch.ca/
.
Our thanks is extended to the province of New Brunswick and the New Brunswick Wildlife Federation for donating the trip.
Very few supper tickets are left. Contact Roger Estabrooks at 506-364-0091 to purchase tickets