2017 Youth Fish Derby
​Sackville Rod & Gun Club holds 3rd Annual Highway Cleanup
Upcoming 2017 Youth Fishing Derby to be held on June 3rd
Tickets available for Westinghouse 4K smart TV
Paul Branscombe selected the Sportsman of the Year
Clay bird shooting for Summer 2017 begins!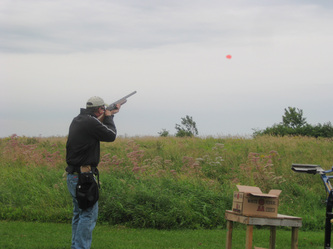 ---
Club's annual Sportman's Supper once again is a sell out
Club donates to the Hospital Foundation's Campaign
Sackville prepares to host annual Spring Sportsman Supper
The Sackville Rod and Gun Club is holding a Canada Firearms Safety Course and Atlantic Hunter Education Course .

The Firearm Safety (Part A) will be Mon, Tues May 1, 2 (6-10PM) with testing on Thu May. 11 (by appointment starting at 4pm).
The Hunter Education (Part B) will be Mon, Tues May 8, 9 (6-10PM) .

The Canada Firearms Safety Course is required by anyone who wishes to apply for a firearms license.
The Atlantic Hunter Education is required by anyone who is applying for their first hunting license, or was born after January 1st, 1981. This course is recognized across North America.

The course is being held in the Wetlands Centre at Tantramar Regional High School, located at 223 Main Street in Sackville, N.B.
The Wetlands Centre is located around back of the High School in the old mechanics shop.
You must be at least 11 years to attend the course.

You must pre-register by contacting the NB Department of Natural Resources in Dieppe, telephone 506-856-2344. The office is closed from 12-1:15 pm for lunch. There are limited seats available.

The cost for the entire course is:
16 years and younger- $40.00
17 years and older- $95.00
Hunter education manual-$10.50
Firearm Safety Manual-$10.50
**** For students 16 and younger the New Brunswick Wildlife Trust Fund covers the cost of the 2 manuals. ****
On the 1st night of the course, please bring Identification (Driver's Licence or Birth Certificate). Please note that there is no outdoor footwear allowed inside the classroom, please bring slippers or warm socks.
Sackville Rod & Gun donates to Atlantic Wildlife Institute
Sackville Rod & Gun helps to support Tri-County Ground Search & Rescue with donation
Youth Fishing Derby

Sackville Rod & Gun Club 2nd Annual Highway Cleanup

Roger Estabrooks the Recipient of Sportsman of the Year
Annual Spring Sportsman Supper Continues to be a Hit!
Tri-County Ground Search & Rescue's Reminder to be Prepared for Outdoor Activities
Final Spring Meeting and Barbeque May 4
Sackville Rod & Gun Club Awarded at NBWF AGM for Membership and Youth
Guest Speaker Mike Allan Talks on Rabies in New Brunswick